Here's the story of  a 17 years old Eshaan Balbale student of Thane's Bedekar College who says just talking or politicizing over issues don't solve out problems while working on them does.
Meet 17 years old Eshaan Balbale, who created a temporary bamboo bridge 100 feets long in just 8 days and promises for it's maintenance so that the students in the area can reach their school with safely and hygiene.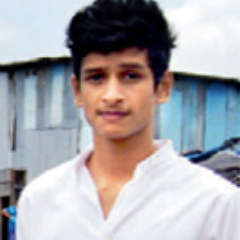 At such an age of 17, realizing the need of the hour to construct the bridge for the Sathe Nagar students and residents he did a tremendous job in just 8 days which politicians and corporations fail to do in years. He constructed 4 feet wide and a 100 feet long temporary bamboo bridge over the fetid nullah in just 8 days over which 50 people can cross the bridge at a time.
He was deeply moved to see the Sathe Nagar students walking through a 1.5 km long filthy, foul smelling sewage to reach school everyday as he spend most of his time in the area. Few residents had even lost their lives during rainy season when water level rises.
The bridge connects Sathe Nagar and PGMP Colony. Crossing the nullah daily for reaching schools was very risky for many children attracting various skin infections and diseases like malaria, dengue and many other, which was also being a cause for various students to drop school. Several parents were also reluctant to send their children to school. I felt terrible when I saw the children wade through the disgusting sludge," he says. plan to visit the site at least once a month. If the bridge is used responsibly, it should easily last for a couple of years. In the meantime, I will repair the bridge as and when the need arises," he promises.
Eshaan Balbale set up the NGO Nirbhay Yuva Pratishthan, where he encourages other youngsters to participate in similar philanthropic ventures. He marks his act as a new learning experience for him.
Eshaan's future aim is to build toilets and improve sanitation conditions in the area. We wish him goodluck in all his future endevours and hope he becomes an inspiration to more young minds via his NGO Nirbhay Yuva Pratishthan.