The Indian Space Research Organization (ISRO) has launched a record 20 satellites in a single mission from Satish Dhawan Space Centre with PSLV- C34 in Sriharikota today which led India as a 3rd country in the world to do so. The satellites included Cartosat-2 series satellite for earth observation and 19 co-passenger satellites from US, Canada, Germany, Indonesia and two Indian academic institutions.
Image Source: ISRO
US has launched 29 satellites in 2013 and Russia 33 in 2014. India ranks 3rd by launching 20 satellites in 2016 today. It's not the first time that ISRO is successful in launching satellites in a single mission. It has previously also launched 10 satellites in 2008 in a single mission and now it's a new achievement in the field of space science.
ISRO's other achievements are:
ISRO had launched it's first rocket in 1963.
Within 9 years of it's establishment ISRO was successful in launching it's first satellite in the orbit of the Earth in 1975.
In 2009 ISRO bagged another achievement by sending humanless satellite to the Moon which led India stand parallel to US and Russia.
In 2014 ISRO made history by successful launch of "Mangalyan"defeating American Space Agency NASA as the cost of India's "Mangalyan" was much inexpensive than NASA.
India's cost of satellite launching is 60% lower than the cost incurred by any other foreign space agency.
ISRO has been successful in launching all the foreign satellites so far.
More than 57 space agencies from 20 countries are taking help from ISRO for their satellite launching since 2009.
India is going to soon launch it's own "Made In India" Satellite Navigation System IRNSS like GPS. All the required satellites for the same have already been successfully launched.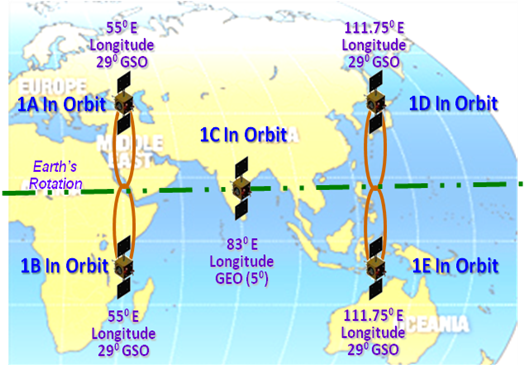 Image Source: ISRO
We congratulate to team ISRO for their achievements so far and wish them goodluck for all their future endeavours and making India shine.